Monkey Bread.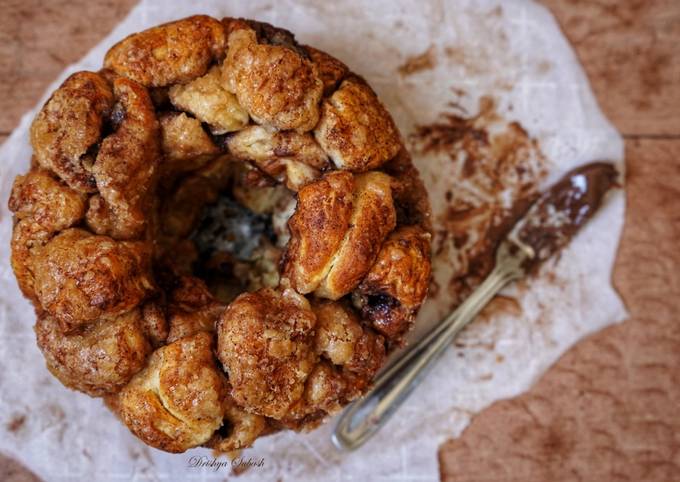 You can have Monkey Bread using 18 ingredients and 11 steps. Here is how you achieve it.
Ingredients of Monkey Bread
Prepare of For Dough :.
It's 2 1/2 cups of Bread Flour.
You need 2 tbsp + 1/2 tsp of granulated sugar.
Prepare 3 tbsp of unsalted butter.
Prepare 1/2 cup + 2 tbsp of warm full fat milk.
It's 2 tbsp of warm water.
You need 1 of large egg.
It's 2 tsp of active dry yeast.
Prepare 1 pinch of salt.
You need of For Coating :.
It's 1 tbsp of cinnamon powder.
You need 1/4 cup of white sugar.
Prepare 1/2 tsp of nutmeg powder.
It's of For filling :.
It's 1/4 cup of chocolate spread or chocolate chips.
Prepare of For Butter Caramel Sauce:.
It's 1/4 cup of Unsalted butter.
Prepare 2 tbsp of brown sugar.
Monkey Bread instructions
Preparing Dough: Dissolve Yeast and 1/2 tsp sugar in warm water and let it start bubbling. Add the bloomed yeast, milk, melted butter, sugar, egg, salt and half of the flour in a large mixing bowl and beat it on high speed for 3 minutes. Now add the remaining flour and mix it to form a firm dough..
Transfer the dough to a floured surface and knead it for 5 minutes or until smooth and elastic. The dough is ready if it springs back when you poke it with a finger. [ Careful note to over knead]. Now shape the dough cylindrical and wrap it with a plastic wrap, let it sit in room temperature for an hour and then refrigerate overnight or at least 10 hours..
Preparing the coating : In a large mixing bowl add sugar, cinnamon and nutmeg and combine well. Keep it aside..
Shaping and filling dough: Cut the refrigerated dough into circles and again cut into four pieces..
Make a slit on each piece and stuff chocolate spread or chocolate chip into it and cover it..
Put each of these balls into the cinnamon- sugar bowl and coat it thoroughly..
Assembling: Butter a bundt pan and arrange each of the balls in it, closely packed. Cover the pan and let it sit for an hour. [I don't have a bundt pan, so I made DIY bundt pan by putting a foil roll in the middle of my springform cake pan ].
Preparing Sauce: mix together brown sugar and melted butter. microwave it for 20 seconds and pour it over the dough rolls in the bundt pan..
Pre-heat oven to 375F and bake the bread for 20-30 minutes or until the top become brown..
Cool it for 10 minutes and invert it to a large serving plate and serve warm..
Notes: This bread has a preparation time of 10-12hours, so you have it plan it accordingly.If you like the buttery taste you can increase the quantity of the butter- brown sugar sauce. For an extra crunch add pecans or chopped walnuts in the bundt pan before placing the dough balls. the caramelized brown sugar and butter will give the nuts a heavenly taste..